World War One Sites - The NETWORLD Database
The Museum of Military History - Section Svidník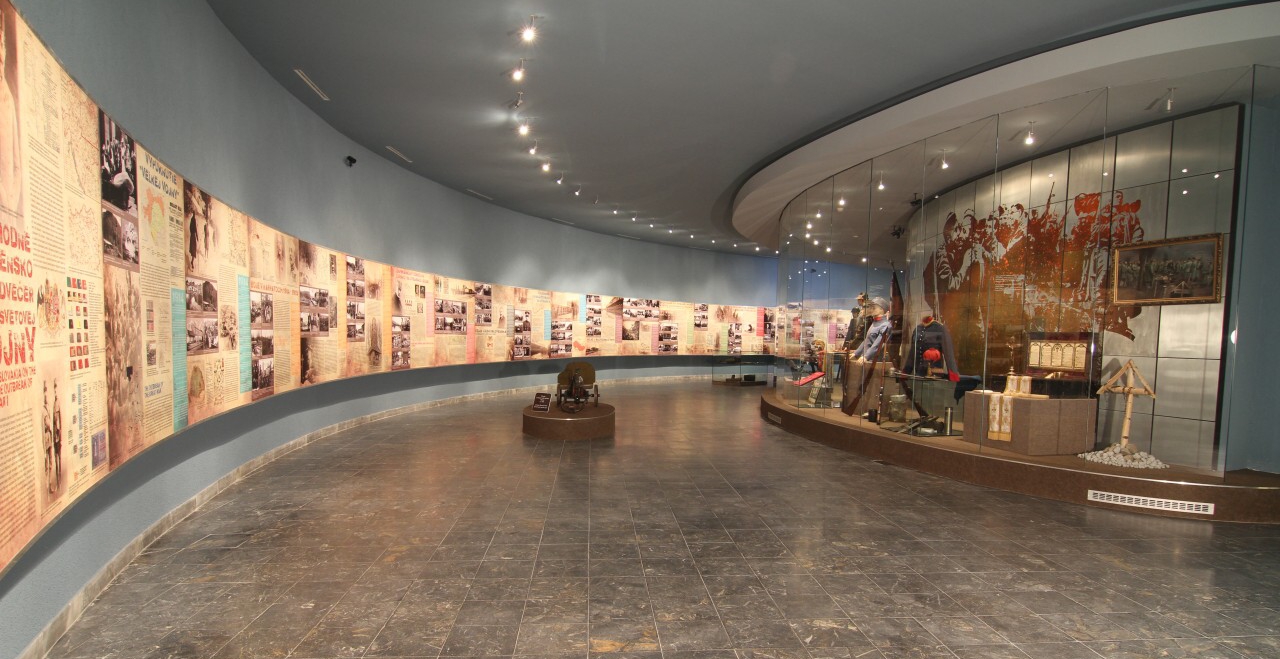 The Museum specialises in history of wars from 1914 to 1945, with a focus on the actions of war in the Carpathians in 1914/1915, the building of Czechoslovak army in the period of the first Republic of Czechoslovakia, the Carpatho-Dukla Operation, the resistance movement, and the liberation of eastern Slovakia in the years 1944–45.
The Museum Section Svidník, an organisational unit of the Institute of Military History (VHÚ) – Museum of Military History, builds on the tradition of the Dukla Museum, which was established on 2 June 1965. The project was designed by František Jesenko Dipl Arch. The start and completion of construction work on the Museum were scheduled for 1963 and 1964, respectively. However, the implementation of the project was delayed and it was not until 29 January 1965 that the construction of the Museum was approved by authorities. The foundation stone of the Museum was finally laid on 6 October 1966. The exhibition premises of the Museum were opened during an opening ceremony on 4 October 1969 on the occasion of the 25th anniversary of the Carpatho-Dukla Operation. The shape of the Museum´s exhibition premises is reminiscent of a human tear and evokes the senselessness of war and human suffering in it. The exposition itself has changed several times. A newly reconstructed exposition section opened in 2011, extending the documentary and historical aspects of the Museum to incorporate warfare in the years 1914-1945 from the whole of Slovakia. The authors of the new exposition scenario are Col. Mgr. Miloslav Čaplovič, PhD. and Col. (Rtd) doc. PhDr. Jozef Bystrický, CSc.
State of repair/preservation
Historical WWI Context
The territory of today's Slovak Republic was directly affected by the WWI battles from autumn 1914 till spring 1915. Military operations took place on the territory of two counties in the North-Eastern Slovakia (Prešovský self-governing region with following counties: Bardejov, Humenné, Medzilaborce, Snina, Stropkov and Svidník). The military operations took place in difficult territory of Carpathian Mountains. The Austro-Hungarian army and Russian army were involved in these battles. In March and April 1915, the German army was also involved in the battle. Military operations that took several months resulted in more than 50,000 soldiers dead. The soldiers of former rival armies are buried in approximately 200 military cemeteries. The largest number of these cemeteries is located on the territory of the above six regions, where the military operations took place. In addition, the military cemeteries were created near the military hospitals or concentration camps at the front background. Such military cemeteries are located on whole territory of today Slovakia, especially near the large cities.
State of legal protection
Not protected
Owner
The Institute of Military History
Kind of cultural use of WWI
Information regarding cities, villages, other touristic attractions (non-WWI) nearby
Further information sources
Further information can be found on the following link:
Other heritage sites nearby
Museums Private Collections
The Museum of Military History - Section Svidník
49.30739131931161
21.56611308643039
fileadmin/res/images/layout/standar-marker.png
Back to list